Painting Exhibition - "Neighborhoods with past and future"
Exhibition duration: 16/12/2009 to 16/01/2010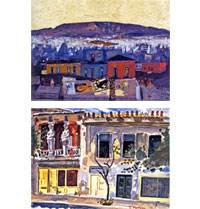 Galleri Ersi presents the painting exhibition "Neighborhoods with past and future".
Participating artists:
R. Avagiannou, M. Ardeleanou, P. Angelidis, K. Argyris, S. Vasileiou, M. Venios, A . Grigora Th. Katsipanos S. Katsoulis, D. Kanas, A. Katsimardos, D. Katsigiannis, K. Kerestetzis, L. Kogevinas, V. Liaouris, G. Mavroidis, A. Matsa, K. Malamos, M. Bitsakis, Ch. Moschovitis, V. Papanikolaou, K.Papanikolaou, K. Papatriantafyllopoulos, A. Patrakis, F. Paraskevoudakis, P. Prekas, K. Siafakas, E. Sakagian, E. Soutoglou, S. Tolios, M. Tzortzakakis, A. Fasianos, P. Feidakis, M. Charos, P. Champidis K. Chatzigianouli.
updated: 28-01-2011 13:03