Personal Exhibition of Yiannis Moissidis - "Imprints of white and black"
Exhibition duration: 15/02/2018 to 10/03/2018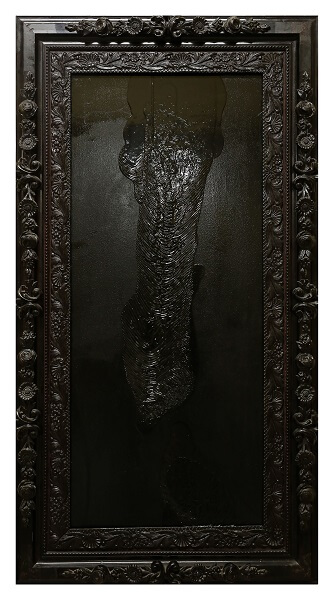 Yiannis Moissidis studies the behaviour of the white colour on the white surface and of the black colour on the black surface. He is intrigued by the idea of the imprint as delimitation of the colour's substance when it is shaped into an abstract form. The compositions of Yiannis Moissidis, as pounding chromatic surfaces, do not elude the potential randomness or what is determined by the natural law of gravity, and, what is more, they absorb the Doric style at its plainest form.

Kalia Aidini
---

Yiannis Moissidis was born in 1985. He studied painting at the 2nd painting studio of the Faculty of Fine Arts of the Aristotle University of Thessaloniki under KiriakosMortarakos, and graduated in 2015. He has participated in several group exhibitions; the most recent ones are: 2017 "Dialogue possibility", Vogiatzoglou Gallery, Athens; 2015 "Thirty eight aspects - One cause" Eirmos Gallery & Metamorphosis Gallery, Thessaloniki, etc. The exhibition "Imprints of white and black" at Ersi Gallery is the first solo exhibition of YiannisMoissidis, who lives and works in Thessaloniki.
updated: 08-02-2018 09:53