Exhibition "An artistic meeting": G. Derpapas and Paschalis Angelidis
Exhibition duration: 10/05/2018 to 02/06/2018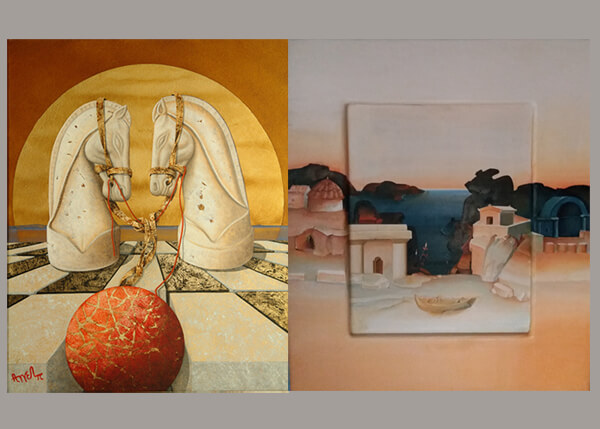 Ersi Gallery presents Pasxalis Angelidis and George Derpapas in the context of the double solo exhibitions event on Thursday 10 May 2018 at 20:00pm
The imaginary animals, the flying angels and the human masks interweave like common elements of an experiential heritage of the two artists. In Angelidis' works, these elements are captured in the empty painting space like acrobats of the void, whereas in Derpapas' works, they breathe freely in a transparent narration thatgoes beyond the limits of the stretcher, spreads to the frames, and transforms them to an integral part of the final composition. The way the two artists regard the dreams connects them with the surrealists; that is to say,with the surreality where the sense of the specific time is rendered invalid and is defined as indefinite.

The ancient statues, the byzantine saints, the wild flowers, the butterflies, which symbolized the souls in Ancient Egypt, in the works of Derpapas, acquire a certain symbolic value;namely,a narration that is completed in different levels within the same work, playing with the meanings of the painting's continuity as well as the discontinuity of the image. However, in the works of Angelidis,theyare immersed in the complexion of the familiar faces,which,as statues of the past, hover like flying angels in empty spaces that flirt with the vague severity of the byzantine art.

P. Angelidis and G. Derpapas spin the web of an interesting discourse, which as an ideologism may not become fruitful, but it heads to the understanding of a personal truth and a dialogue, having as resources the spiritual deposit of an unconscious voice.

Kalia Aidini
updated: 04-05-2018 12:10