"Parallel Dialogues" Painting, Sculpture, Constructions - Nikos Kalafatis
Exhibition duration: 11/05/2020 to 13/06/2020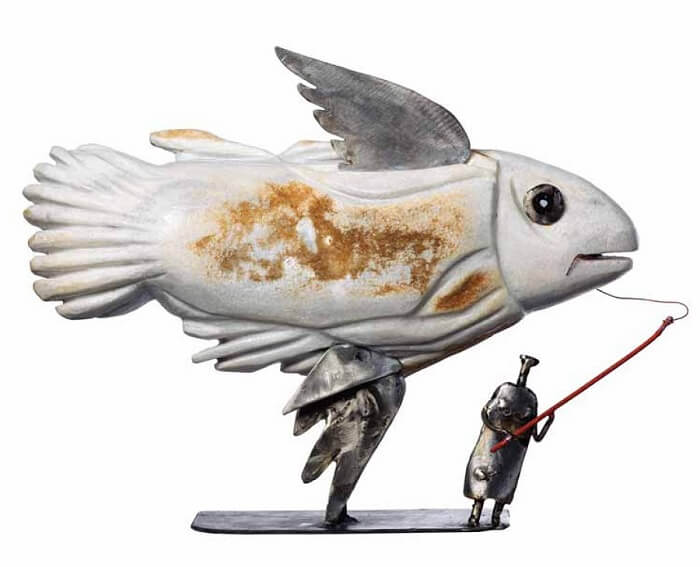 On Tuesday, May 11, 2020 at 19:30 takes place the opening of the solo exhibition, "Parallel dialogues", of the painter and sculptor Nikos Kalafatis, at Ersi Gallery.
In his 17 th solo exhibition, the well-known artist "stages" an installation of artworks, sculptures or wall-mounted, made mainly from iron and painted-over. Nikos Kalafatis makes an alternative artistic environment where the microcosm of his imaginary "natural" creatures converse with poetic ships, human figures and spectators, eliciting parallel dialogues nonethelessutterly harmonious.
Manos Stefanidis writes, among others, in the exhibition catalogue: "If Art is a multiform game, full of twists and surprises, colours and ideas, then Nikos Kalafatis has totally captured its meaning. If Art is also the endeavour to make a parallelworldbut not identical to the natural one, a self-reliant world where the dream will substitute for its narrow-minded logic, and the sentiment or the imagination for its bureaucratic laws and rules, then again Nikos Kalafatis stands at the right side...
...in his art Nikos Kalafatis often uses objetstrouvés, that is miscellaneous objects, things that can be found randomly on the street, even pieces of junk, like those thrown away disdainfully by the petty bourgeois, succeeding to transform them in a magical way. The message is simple: it is not the luxurious material that makes an artwork great. On the contrary, it is the artistic idea that gives value even to the most worthless object. The artist creates birds, people, weird insects, enormous tropical flowers. He plays with colours, balancing between sculpture and painting, poetry and drama, creating images between fairytales, humour as well as underlying melancholy that is easily perceived by sensitive spectators. A melancholy that mainly refers to our lost innocence and our inability to claim it again. The artist himself knows that, under certain circumstances, fairytales, myths, magic of simple things, unsophisticated poetry and song of materials or colours, music of images, can actually save us. It is a pity that people do not take advantage of this opportunity of escape and salvation."
updated: 05-03-2020 10:55