Individual Painting Exhibition of Giorgos Tsopanos "Αrrhephoroi"
Exhibition duration: 15/09/2020 to 03/10/2020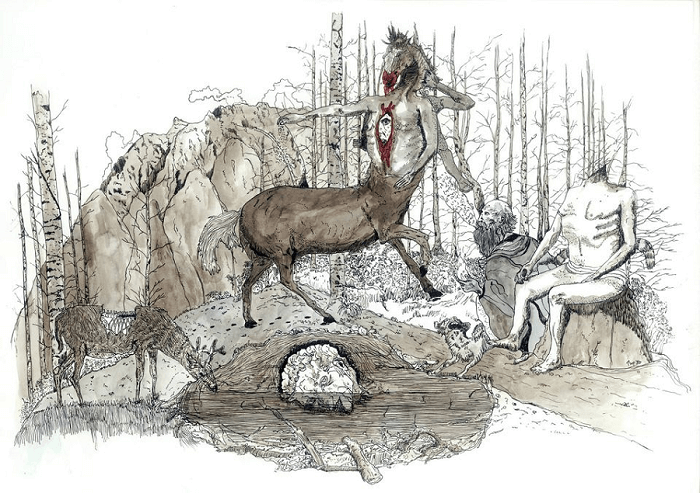 In antiquity, arrephoroi were the bearers of secrets during the Athenian feast "Arrhephoria." In the form of a modern ritual, the illustrations communicate cosmic secrets directly to the viewers΄ subconscious. The images constitute semantic spaces for the comprehension of dreams through mystical symbolism in a universe where secrets, the unknown and the indefinable take on material form. Humans are often portrayed as anthropomorphic animal figures who, in this new state, manifest this conflict both physically and mentally. Even though the figures seemingly convey a state of innocence, nightmare, inner terror and the suspicion that something eerie is at work are constantly present. In this universe, humans resist body and soul any expression of imposed morality, and dare to exist on the verge of life and death.
 
The exhibition will be accompanied by texts written by Alexandros Vagenas.
Giorgos Tsopanos (Heo Tsop) is a self-taught illustrator and noise musician based in Athens, Greece. His B&W illustrations, created using a thin pen and Indian ink, depict a macabre universe filled with symbolism and mysticism, and often include anthropomorphic animal figures.

He has participated in two collective exhibitions both of which took place at Metamatic Taf ("Bijoux de Kant: Recording Actions", 2011 & "Muted Distortions", 2012). 2012 marked his first solo exhibition titled "Interracial Consumers" at Junk Records, Athens. His second solo exhibition "Intonarumori: The Noise Of Art" took place at Polyxchoros KET in January 2013. The exhibition consisted of drawings and handmade noise-machines influenced by composers, bands, references and themes related to the noise and experimental music scene.

Furthermore, he has done numerous illustration projects and publications in partnership with writer Eirini Sourgiadaki (The boy with the magic fingers, pub. Ellinoekdotiki, 2010, post. pub. Thines 2013, Status: Cancelled For Your Eyes Only, pub. Amsel Verlag Zürich, 2015). In 2019 he participated as the illustrator for the "Mortality Check" exhibition at Titanikas Gallery in Vilnius, Lithuania curated by Mary Marinopoulou.
updated: 09-09-2020 19:18