''Calligraphιes'' of the painter Trafia
Exhibition duration: 18/11/2021 to 11/12/2021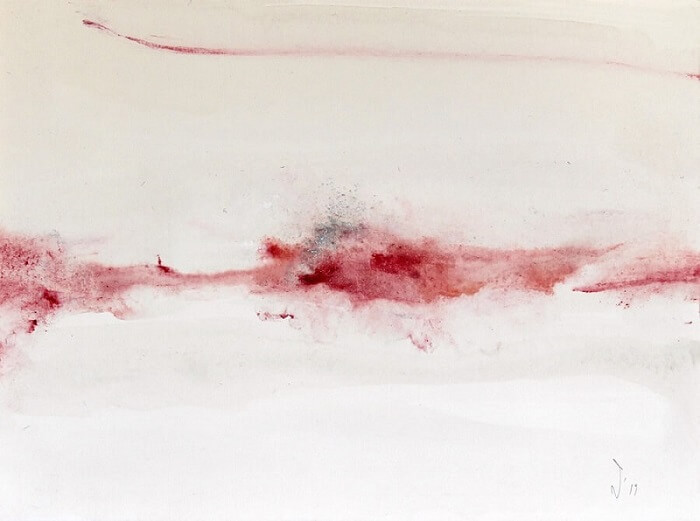 On Thursday, November 18, 2021  takes place the opening of the solo exhibition, '' Calligraphιes'' of the painter Trafia , at  Ersi Gallery.
Thrafia's recent work, crafted in Berlin, Calligraphies, are, as the title suggests, primarily drawn. Skilful painting gestures create abstract landscapes. With a solid knowledge of his materials, mixing painting pigments and powder metals with acrylic glue, he illustrates the invisible co-existence of material and intangible, physical and mental. Thickening and dilutions of colouring and form, turbulence and particle movement, currents, horizons, earthy reliefs, seas and mountains, swirls, light shine and darkness, clouds and winds, cracks and incisions were subjected  in  Thrafia's calligraphies of ablative morphological and cognitive processing and coexist as a reminder of life beyond the naturally perceived world.
His gesture is calm and controlled, but at the same time pulsating and flowing. The time in these "places" is also of particular interest: the formations seem momentary and transient, constantly changing - as is nature itself - but at the same time conveying a tranquility, a sense of timeless inner peace. In the "landscapes" of Thrafia we do not recognise specific familiar places, they are supra-local animated spaces, reflections of the inherent properties of nature, its fluid and ever-changing condition.
These calligraphies we can read as a timely proposal for a symbiotic intercourse between man and nature. With selective references to Turner and Friedrich, Thrafia is reminding us of something that in so-called anthropocentric times we seem to forget: that man is part of nature and nature part of man.
Eugenia Alexaki, Berlin, March 2020
updated: 04-11-2021 20:37