Painting Exhibition - "Public - private space"
Exhibition duration: 15/12/2008 to 10/01/2009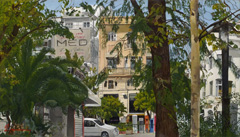 Galleri Ersi presents the painting exhibition entitled: "Public - private space".
The painters show views of the world that surrounds us. Urban areas, streets, squares, windows with view to the neighborhood, familiar faces of friends, personal items, furniture.
Participating artists: K.Argyris, P.Angelidis, S.Daskalakis, E.Zacharaki, G.Lakeridou, S.Karavouzis, P.Karavevas, F.Kafida-Terra, R.Kapeliari, A.Katsimardos, S.Katsoulis, F.Kourti, S.Livanis, A.Matsa, G.Mavroidis, Ch.Botsoglou, G.Bekos, M.Bletsios, Th.Manolidis, E.Papadimitriou, V.Papanikolaou, K.Papanikolaou, K.Papatriantafyllopoulos, F.Paraskevoudakis, A.Papadopoulos, D.Siafakas ,D.Skourogiannis, M.Tzortzakakis, I.Totsis, D.Fameliaris, P.Feidakis.
updated: 28-01-2011 13:41