Painting, Sculpture and Ceramics Exhibition - "A journey in the Mediterranean"
Exhibition duration: 26/07/2008 to 03/08/2008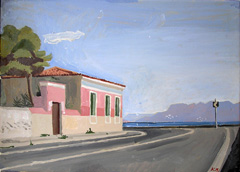 Galleri Ersi presents the painting, sculpture and ceramics exhibition entitled "A journey in the Mediterranean".
Painting
N. Engonopoulos ,S. Vasileiou ,A. Vourloumis ,N. Nikolaou ,R. Avagiannou , G. Vamvouras ,K. Giannaka ,E. Zacharaki ,S. Ioannou ,P. Karavevas ,S. Karavouzis ,F. Kafida-Terra ,N. Kontovrakis , D. Koukos , I. Koukouli ,F. Kourti ,K. Kopanitsa ,M. Kopanitsa ,G. Lakeridou ,D.Miliotis ,G. Moralis ,G. Bekos ,S. Papagianni ,F. Paraskevoudakis ,K. Papatriantafylopoulos ,G .Pikionis ,M. Pop ,A. Spanoudis ,M. Tzortzakakis ,I. Totsis ,A. Fasianos ,G. Psychopaidis.
Sculpture
K. Dikefalos ,Th. Papagiannis ,E. Founk
Ceramics
S. Papatriantafylopoulou.
updated: 28-01-2011 13:50