Nikos Anagnostopoulos - "U- Topia"
Exhibition duration: 24/05/2004 to 05/06/2004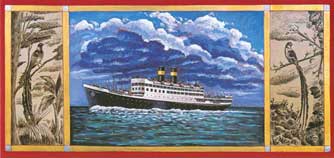 Galleri Ersi presents the painting exhibition of Nikos Anagnostopoulos entitled "U- Topia".
The artist will present his new job focused on the journey. This journey leads us not to real places but to memory paths, to imaginary places that we dream.
Nikos Anagnostopoulos paints these images combining memories, influences, ideas and dreams, creates extraordinary scenes and invites the viewer to sea journeys that will lead each on to his own utopia.
updated: 28-01-2011 16:29